Original link: https://www.bizjournals.com/memphis/inno/stories/news/2021/09/16/israel-based-nanomedic-technologies-us-hq-memphis.html
As Mark Darty described Nanomedic Technologies' Spincare System — a handheld device that prints nano fibers onto a wound, forming a protective, skin-like matrix over the injury — I thought about a scene in the Marvel Studios film Avengers: Infinity War.
After being stabbed in the side by hulking supervillain Thanos, Robert Downey Jr.'s Iron Man sprays a white substance onto his own wound, covering it.
"Bingo, that's exactly how it works," Darty said, when I compared Iron Man's tool to the Spincare System. "It's a point-and-print, on-demand type of device, and that's what's so cool. It's easy to use."
While Nanomedic Technologies' product might not actually be as advanced as a substance dreamed up for the fantastical Marvel Cinematic Universe, Darty is confident he's joined a company with a pioneering technology, which could be a disruptor in the medical device sector.
The company is headquartered in Loor, Israel. They've tapped Darty be CEO, and lead their U.S. operations, which are based in Memphis — a city selected because of its role as a medical device, industrial, and logistics hub.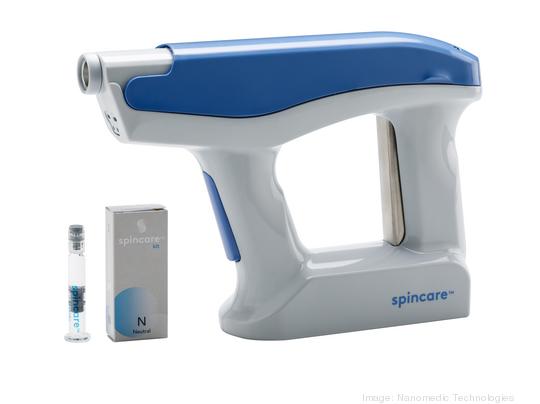 The Spincare System is comprised of the handheld applicator and a disposable cartridge.Nanomedic Technologies
Right now, the U.S. operations are small, and Darty is the only employee here. Though the Spincare System is currently sold in 15 different countries — in Europe and Asia — it will have to gain FDA clearance before it can be commercialized in the U.S., and Darty can build a larger local team.
Until then, though, he's talking with physicians and surgeons around the nation, networking and discussing the product.
"It's important to establish a foothold in the U.S., build awareness that the product is coming, what its applications may be, and build those relationships," Darty said. "Then, when FDA clearance does come, we can move to additional clinical studies, and can move to sell on the market."
Darty declined to provide specifics on the timeline for FDA approval, the number of local employees he hopes to hire, and the Spincare Systems' sales numbers overseas — the global rollout of the product just started this year. But he did describe the product's functions, and why he thinks it has so much potential, as it shifts from the R&D to commercialization phase.
The Spincare System — which is comprised of a handheld applicator and disposable cartridge that holds the dispensed material — uses electrospinning technology. Typically, Darty explained, this is seen primarily in factories. The company, however, has miniaturized the technology and made it portable, allowing it to be used with patients in clinics and hospitals.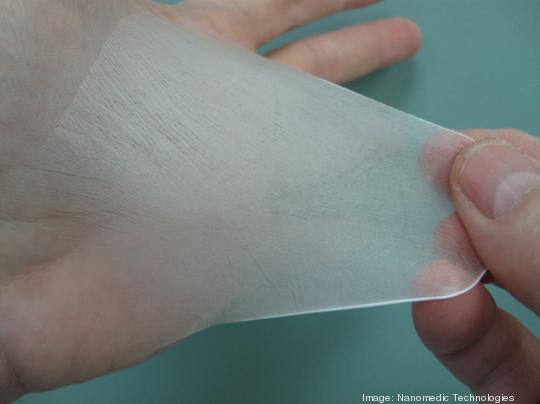 Under a microscope, the Spincare System's protective matrix of nanofibers looks like human skin.Nanomedic Technologies
The protective matrix of nanofibers that's deployed onto the wound with electrospinning appears skin-like under a microscope, and it adheres to the wound until healed, when it naturally peels off. The wound doesn't have to be redressed, and the patient has significantly more freedom.
"They can shower within days, and can have mobility they would not have with other wound care products, or dressings," Darty said. "It's quite a revolution in terms of patient comfort, and the promotion of tissue regeneration."
Darty's excitement over the new product's potential is fitting, given his longtime interest in innovation and technology. In his 33-year career, he spent a decade in the aerospace industry — with companies such as General Dynamics and Boeing — before gradually shifting over to the medical device sector, where he's worked for 15 years.
In 2012, he founded Memphis-based Hypermed Imaging, and spent nine years as CEO, as the company developed a device that images and quantifies hemoglobin levels in tissue.
In 2006, he spoke to MBJ about how technology can fundamentally improve the world. And how it's always evolving:
"In 100 years we've had airplanes, jets, computers, supercomputers, and we've mapped the human genome. The next ten years could be as exciting as the last 50 in terms of innovation. If you look ten years into the past, you wouldn't believe we'd have the computing power of the average Blackberry. Ten years from now, there will be something else you wouldn't believe."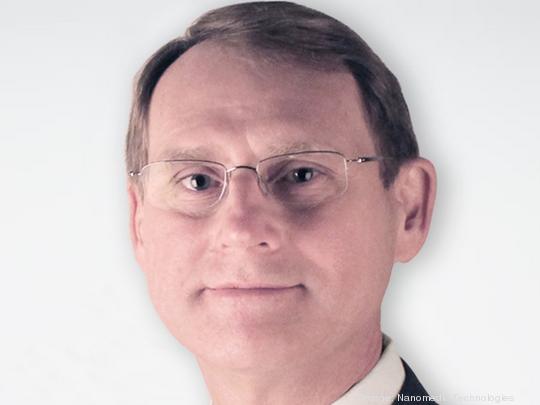 Mark Darty is CEO of Nanomedic Technologies